Green Walkers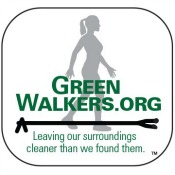 The Green Walkers program was launched at San Francisco's "Run Wild For A Child" run/walk.  People were given the opportunity while registering to "Make a Pledge"  to "Leave their surroundings cleaner than they found them."  Those who made the pledge had their names entered into a drawing. 50 winners received free "reachers" which they could use to fulfill their pledge as a Green Walker by "bagging" litter found along their normal walking routes.
"The inspiration for recruiting other walkers came to me when I made the "reacher" a regular part of my early morning and Saturday walks," said W. Ron Sutton, Mr. Pedoemter. Mr. Pedometer was at the event with the walkers, demonstrating Green Walking which is "Leaving your surroundings cleaner than you found them."
To become a Green Walker, to learn about other Green Walkers, or to organize your own Green Walker group, contact us here.
If you would like to sign up to receive our newsletter, click here.