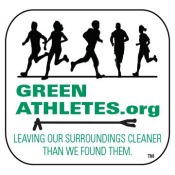 Green Athletes
The Green Athletes program is an offshoot of the Green Walker program.  Both program's premise is "to leave our surroundings cleaner than we found them."
Green Athletes tend to be in situations where there are crowds in stadiums or parks for their sports events.  Teams come with all kinds of paraphernalia including food, drinks, snacks etc.  all of which multiplied by the number of people on the team can lead to a great deal of garbage. Green Athletes are committed to being conscious of their surroundings and setting an example by their actions, to leave their surrounding cleaner than they found them.
For more information about Green Athletes, contact us here.
If you would like to sign up to receive our newsletter, click here.