World Walk To Wellness
The World Walk to Wellness program was started in 2007 in ACCUSPLIT's hometown.
An event always held on December 31 of every year.  The 31st was chosen to help people make New Year's Resolutions to add "Being More Active" to their list of goal priorities for the new year.  An early walk was chosen in Pleasanton, CA  so that families could participate without interfering with New Year's celebrations or having to walk in the dark.
The event is purposely made simple: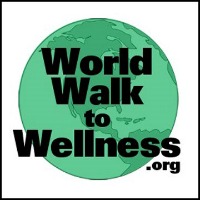 No required fee

local organization

local health-related charity beneficiary

the beneficiary receives requested but voluntary donations

no uniform, T-shirt or hats required

festival sponsors exhibit "Eat Right, Move More" messages
If you are interested in starting your own World Walk To Wellness in your area, contact us.  We have useful "templates" and useful forms and suggestions.
The goal of each event is to reach into each community and to motivate everyone to be active in the new year and to continue to lead an active lifestyle.  Each year there will be more World Walk To Wellness festivals held in communities from Florida to Yokohama.
"Walk 'n' Talk"
In 2010, World Walk To Wellness began leading weekly walks on Saturday mornings in the
Tri-Valley area of Pleasanton.  Walks are scheduled for one hour unless there is a special destination walk. Each week we send out an e-newsletter which includes upcoming walk destinations, meeting times along with other information on health related topics, Walks-With-A-Cause and Community Events and other walks taking place in the community on a regular basis. People from the group volunteer to be "Walk Stars" and lead walks to new parks and other interesting destinations allowing all to be involved.
Our motto is "We walk rain or shine unless the rain is blowing sideways."  To date, we have not missed a Saturday morning walk in seven years!
If you would like more information or are interested in starting a "World Walk To Wellness" event or a "Walk 'n' Talk" program contact us here.  If you would like to sign up to receive the weekly e-newsletter click here.